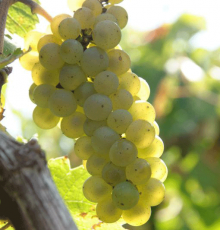 Our Muscadets of Exception
Essentielle, Les Vénérables, Cuvée Tendresse
Discover our range of Muscadet, comprising some remarkable gastronomic wines. Our Muscadet are exclusively produced from the Melon de Bourgogne grape variety, which is quite unique to the Nantais vineyard, offering optimal growing conditions for this variety. The wines of Muscadet may be ideal for enjoying in their youth, but they also have great potential for ageing while retaining their fantastic crispness. Our Muscadet wines show fine delicacy combining saline freshness and pure aromatic flavours with an underlying minerality.
AOP MUSCADET SEVRE ET MAINE SUR LIE – 2019

Description:
The « Essentielle » is the true essence of our terroir; thanks to a subtle blend of our different plots on our vineyard to express its best. The vines have an average age of 20 years old and thrive on schist-based soils with silico-argillaceous bottom. The wine was aged and nourished on its fine lees until Spring. Combining freshness, harmony and elegance, this Muscadet is a first glance of our style that would delights all palates.
Tasting Notes:
" Pale gold with green tints. Distinctive nose accented by lemon and tangerine with iodine undertones. Leaves the palate feeling clean and fresh. A generous mouthfeel, crisp fruitiness and long, energetic finish are in good balance. Set aside for seafood." Gilbert&Gaillard
Food Pairings:
Fresh Oysters, Shellfish and Seafood Platter, Moules Marinières, Grilled Sardines, Apéritifs.
Les Vénérables - Vieilles Vignes
AOP MUSCADET SEVRE ET MAINE SUR LIE – 2017

Description:
Epitomizing the estate, « Les Vénérables – Vieilles Vignes » is a selection of old vines aged of 40 to 60 years old, from our most renowned parcels. Their roots reach down over 10 meters in mica-schist soils and are exclusively harvested by hand that give rise to ripe fruit that is so persistent and clean. The wines, which are more concentrated, express all the complexity and finesse of the Melon Blanc grape thanks to an extended lees ageing. Some bottle age will gain further expression.
Tasting Notes:
" Translucent, crystalline colour with green tints. Appealing nose of citrus fruits, spring scents and a mineral dimension. The palate offers up impressive rich, silky presence, intense, precise aromas and delicate freshness. Lovely. » 90/100 Gilbert&Gaillard
Food Pairings:
Baked Oysters, Noble Crustaceans, Scallops Carpaccio, Mackerels « à la plancha », Oven-Baked Sea Bass, Dry Goats' cheeses.
AOP MUSCADET SEVRE ET MAINE SUR LIE – 2016

Description:
Passionate about our terroir, we wanted to bring another look at Muscadet. From a selective plot of our vineyard, this wine is a reflection of a « burgundian » style thanks to a particular fermentation that brings smoothness and roundness feel to the wine. The ageing of 12 months in underground tanks will give great length, richness and a great aromatic complexity.
Tasting Notes:
« Pale yellow with green tints. Rich, creamy nose of pear and citrus with a tangy touch. Delicious supple, fleshy, concentrated and rounded palate with clearly delineated notes supported by abundant freshness. Clean, precise sensation. A wine to recommend. » Gilbert&Gaillard
Food Pairings:
Grilled Lobster, Creamed Scallops, Pike-perch fillets with « Beurre-Blanc » sauce, Asian cuisines (e.g Sushis), Hard cheeses.